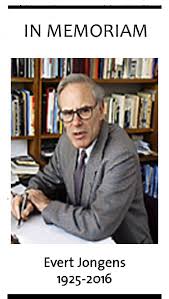 Evert Jongens was born in 1925 in The Hague. Six months later his family  moved the Dutch city Velsen.
Evert was the driving force of the Netherlands – Sri Lanka Foundation which was incorporated in 1976. Around the same period, working for the Netherlands Universities Foundation For International Cooperation (NUFFIC), he was instrumental in setting up the Netherlands Alumni Association Lanka (NAAL). He then campaigned and raised fund in the Netherlands to rescue the heritage building in Prince Street, Pettah, Colombo. The building which once functioned as the home of a Dutch VOC governor, an orphanage and finally as a post-office was restored to become the Dutch Period Museum. It serves this function even today. Evert successfully established a twinning programme between the Dutch city Velsen and Galle in Sri Lanka. Through the foundation and the twinning programme Evert was able to contribute towards bilateral cooperation between the Netherlands and Sri Lanka. He also played a commendable role in placing the Dutch Fort in Galle as a world heritage site through ICOMOS, which is affiliated to UNESCO.
He encouraged and facilitated many academics and interested persons to study in the Netherlands and also to produce publications related to the VOC period in Ceylon. The contribution of Evert Jongens in promoting relations between the Netherlands and Sri Lanka was recognized by the Government of Sri Lanka and in 2005 he was decorated with the title "Sri Lanka Ranjana".
Evert Jongens passed away on 26 July 2016.